Congratulations to Panthers Dylan Hardy and Joseph Russo who were both named as BCANY All-Stars for the 2022-23 school  year.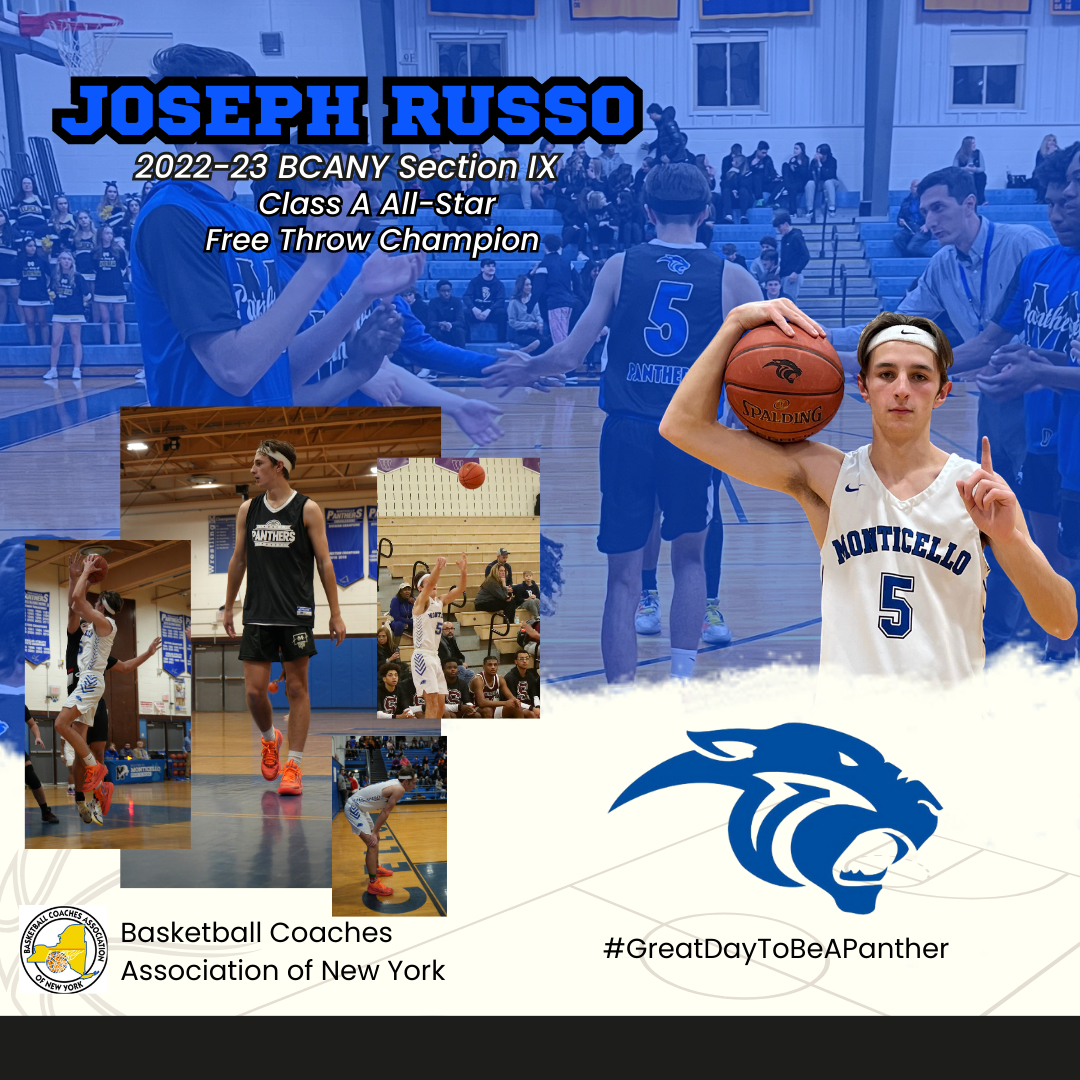 About the BCANY Awards: 
The Section IX Chapter of the Basketball Coaches Association of NY is pleased to announce the 2022-23 All-BCANY Teams along with awards for Sportsmanship, Player of the Year, Coach of the Year, Three-point Champion, and Free Throw Champion. Players and coaches were selected from Class AA, A, B, and C & D combined.
In order to receive any BCANY award, the head coach must be a member of the Association. Member coaches were asked to nominate players from their team to create an All-Star Ballot. From that list of nominees, coaches in each class selected the players they thought worthy of the honor; coaches were not able to vote for themselves, their own players, or team for any award. The Frees and Threes competition is a statistical competition with a minimum number of makes required to be considered for the award; the player with the highest season percentage was named the champion.
Todd Rose, BCANY Past-President, commented, "It is important to recognize the accomplishments of players and coaches for all of their hard work and talent. These awards are special because they come from the coaches across the section. The players named to All-BCANY and those that are selected for the other awards have made an impact on the opposing coaches. I would like to congratulate all of our winners."
BCANY is a service, advocacy, and professional development organization comprised of basketball coaches of all scholastic and collegiate levels from throughout the entire state. Also included as associate members are students, officials, and fans. BCANY is the only organization that exists specifically for basketball coaches in New York State.
BCANY takes a leadership role in providing professional development opportunities for coaches and in positively promoting our game. "One of our main goals is to promote the good things that players and coaches are doing. I am proud to represent BCANY and applaud the work and accomplishments of our coaches and players here in Section IX" added BCANY Deputy Executive Director, Chris Russo. BCANY is an advocate and watch dog for our coaches, players, and game, and try to use our influence to positively improve basketball in our state.