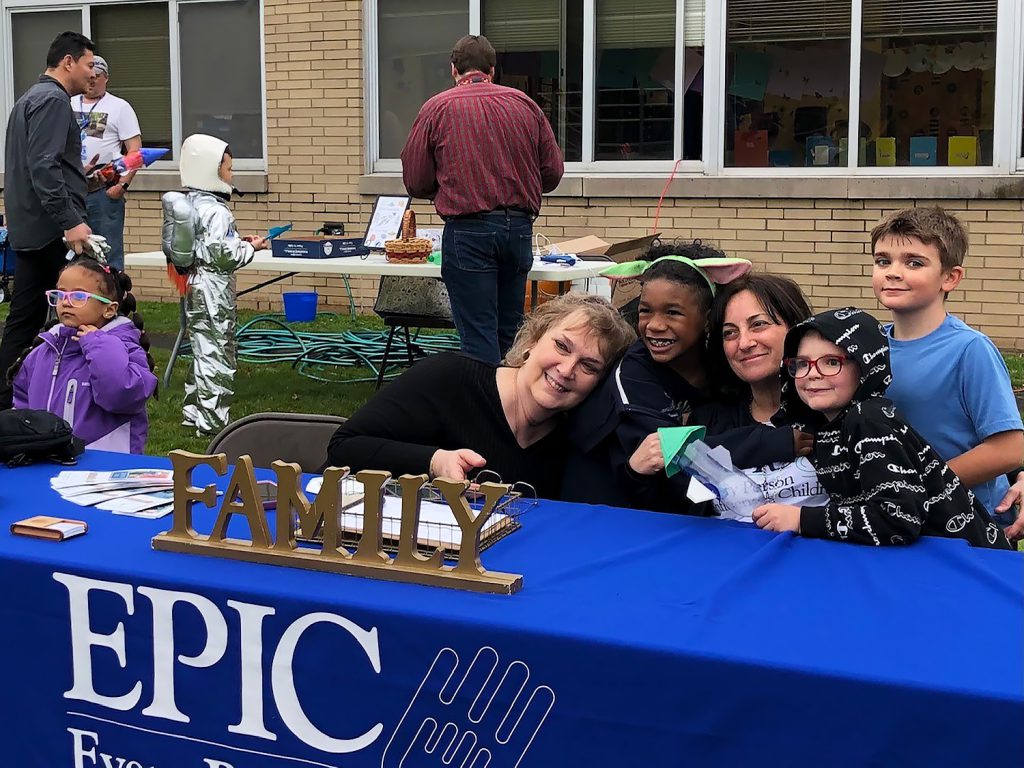 If you were in the vicinity of the George L. Cooke Elementary School on the evening of Wednesday, May 4th, you may have seen Buzz Lightyear or NASA astronauts roaming around or saw small rockets soaring into the sky. With close to five hundred people in attendance, Cooke School's "Out of This World" Family Literacy Night was a stellar event under the guidance of Mrs. Gallet, Principal, and Mrs. Mootz, Assistant Principal. Families enjoyed many activities organized by the Cooke School faculty including space-themed stories, outdoor games, food, and the Scholastic Book Fair.
The highlights of the evening were the rocket launches. Prior to Spring Break, Jane Sorensen, EPIC's Family Engagement Program Manager, collaborated with Cathy McFadden, Cooke Family Engagement committee member, to assemble 181 EPIC "Take Home Project" bottle rocket kits as a family engagement activity.
Families decorated the bottles with the supplies provided by EPIC and brought the decorated rocket to literacy night to be launched. The launch pad area included stomp rockets and straw rockets so all families could join in the fun of launching rockets. It truly was a Family Engagement Event as Alan Sorensen, singer/songwriter provided live music including "Free", a song he wrote as a tribute to the Challenger Space Shuttle astronauts. Also, Ms. McFadden's brother, Mr. Van, and his colleague, Mr. Longo, technology education teachers from Valley Central School Middle and High Schools, helped set up and launch the rockets the families decorated.
Superintendent of Schools, Dr. Evans, and Board of Education President, Lori Orestano-James, stopped by to view the rocket launch and chat with families. In addition, Lori Orestano-James presented a $100 donation on behalf of Monticello's Board of Education to be used to purchase books for Cooke Elementary. It was fantastic to see the exuberance and excitement of the families. The successful event was a shining example of what happens when we all come together as a team including the Cooke custodial staff.