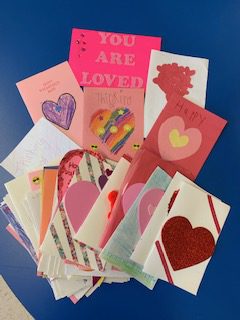 George L. Cooke Elementary School students participated in a SEW (Social Emotional Wellness) kindness and compassion project during February. They made Valentine cards  for the residents and staff of the  skilled nursing unit at Garnet Health in Harris.  Cooke students–both remote and in-school–made 140 Valentine cards, which were delivered to the hospital for distribution. 
"I have seen the cards on their [the residents'] dressers and they seemed to have loved the cards," Jodi Kurlander, social services program manager wrote in a response. "
This has been a very difficult year, and it is just about a year.
There is no question that, this act of kindness is very appreciated as our residents are very lonely.
Thank you again for thinking of us."