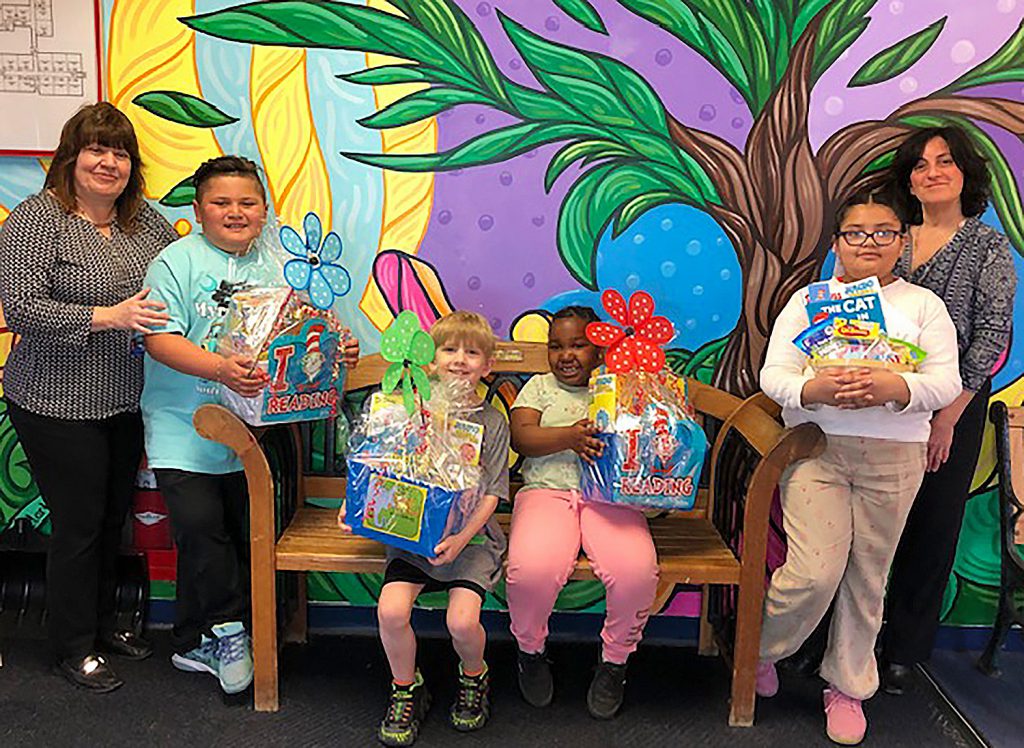 Where do you read a book? In your favorite chair, or maybe outside in some fresh air? For the students at George L. Cooke Elementary School during March, it was anywhere!
As part of "National Reading Month," students at Cooke Elementary were presented with the Dr. Seuss Reading Challenge, co-sponsored by Every Person Influences Children (EPIC) and the Cooke Reading Initiative Committee. The challenge was for students to read books at home in a "silly place," similar to a Dr. Seuss tale. For example, students could read in a tub like the Cat in "The Cat in the Hat Comes Back" or in a tree/treehouse similar to Sam in "Green Eggs and Ham." The goal was to encourage students to read independently as often as possible, albeit with a fun, unconventional twist.
About one-quarter of the Cooke Elementary student population took on the challenge, reading stories at home in unique locations. Each student that participated was entered in a raffle and received a small treat bag from Ms. McFadden, Chairperson of the Cooke Reading Initiative Committee. Jane Sorensen, EPIC Family Engagement Program Manager, also created gift bags that were won by the following students: Benjamin Darnobid (kindergarten), Heaven McDaniels (first grade), and Owen Castillo (second grade).
The festivities for National Reading Month continued at Cooke Elementary with a Dr. Seuss Craft Night, hosted by the Cooke PTO on March 1. Second grader Maya Gayosso Morales was the winner of the raffle and received a Dr. Seuss-themed basket. Several classrooms also hosted guest readers from the district throughout March, sharing beloved stories with students that were sure to grow their love of reading.
While one month is dedicated to spreading the joy of reading, it's something that should be celebrated each day. Reading is one of the best skills to develop, as it increases imagination, boosts memory, strengthens mental muscles, improves comprehension and reduces stress. Make reading a part of your daily routine, just like the students at Cooke Elementary.