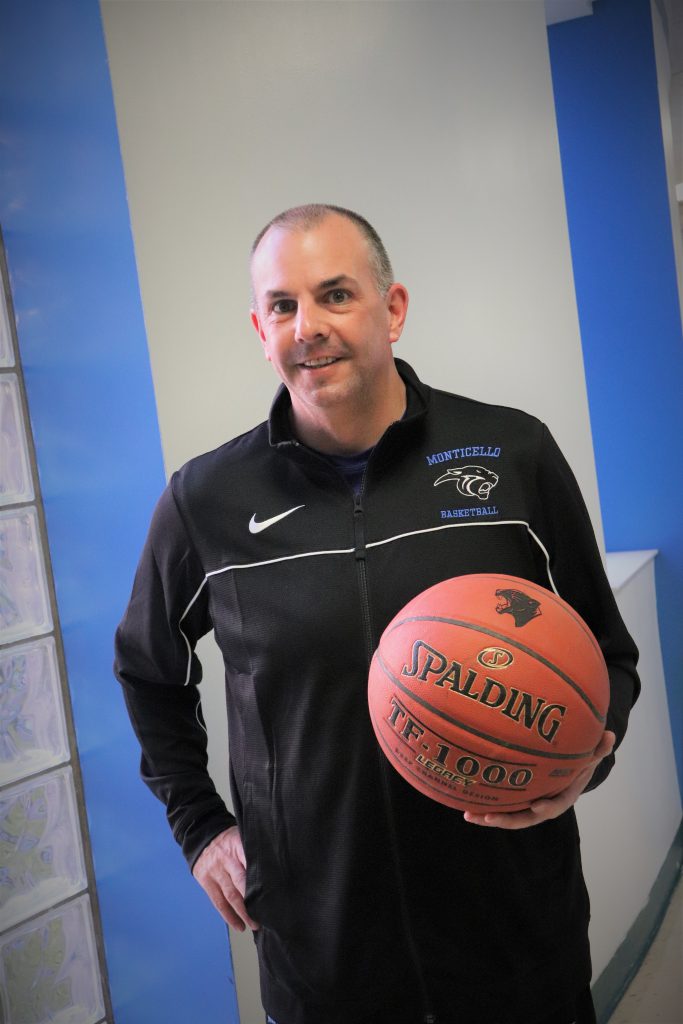 Monticello High School Boys Basketball Coach Christopher Russo has built up quite a following for the team on social media, where he shares the team's highlights, celebrates wins, and gives players shout outs to an eager audience, all under the hashtag #GreatDayToBeAPanther. Today, it's a great day to be Coach Russo.
Coach Russo has been named as the 2020-21 New York Boys Basketball Coach of the Year by the National Federation of State High School Associations (NFHS). He was nominated for the honor by former Roscoe Athletic Director, Fred Ahart, and Monticello Central School District Director of Athletics, Kurt Buddenhagen. According to the organization, the award recognizes those who are leading their sport, shaping their athletes, and contributing in a positive way to their community.
Coach Russo certainly fits the bill on all counts. He has coached basketball for 13 seasons, with 116 all-time wins. In that time, he has created a conduit between the sport and the community, creating several philanthropic initiatives, including the BCANY vs. Cancer Classic, the Slam Dunk Games, the Jingle Ball Classic and the Monticello High School Awesome Alliance – programs that have helped support cancer and heart disease research, provided Christmas toys to children at Sullivan County Head Start, raised nearly $50,000 for the oncology unit at Garnet Health Medical Center and facilitated participation in sports for athletes of all abilities.
Coach Russo is well-known for his propensity for developing meaningful connections with his players, inspiring them to be great on the court, in the classroom and in the community. He believes that athletics are a key component in the development of young men and women, teaching and reinforcing the value of commitment, hard work and sacrifice.   
"While high school athletics can be a source of entertainment and school pride, it also allows participants to reach out to those in need," he said. "In a variety of ways, athletics can be the means by which our student-athletes can give back to their community, promote good will and drive the causes that spark positive changes."
This isn't the first time Coach Russo has been recognized for his excellence – he's been a three-time recipient of the Sullivan County Democrat's Coach of the Year Award, a three-time recipient of the Basketball Coaches Association of New York (BCANY)'s Section 9/Mid-Hudson Chapter Class A Coach of the Year Award, and the 2018 recipient of the BCANY's Ben Nelson Service award, among other accolades.
He has held numerous leadership and positions in the Basketball Coaches Association of New York, including president, vice president, and executive director. He has also been a parishioner of St. Joseph's Church in Middletown for 25 years, where he has served as the school's athletic director, and organized the parish's basketball camp since 2001.
"Coach Russo was mentored by two absolute legends in the local and state basketball community: Coach Fred Ahart and Coach Dick O'Neill," Mr.  Buddenhagen said. "Filling those shoes was no easy task, but he is following in their footsteps and carving out his own legacy. We congratulate him on this extremely well-deserved honor."