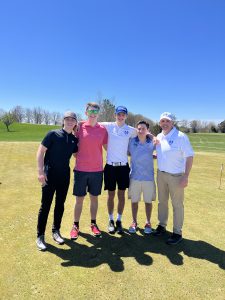 Congratulations to the Monticello High School boys golf team! They were named as division champions. This is the team's first division title since 2003, and is the highest team honor achievable for golf as OCIAA, Section ix, and NYSPHSAA are all individual championships.
The team shot a 190 and was 12 strokes ahead of Liberty who finished in second place.   
The Championship was held at Swan Lake on May 10.  It was a beauty at on the course, 61° and sunny.  The boys played 9 holes, par 34.
Scores and place:
Brett Benzenberg: 43, T2nd
Joseph Russo: 44, 3rd
Jacob Kaplan: 50, 6th
Owen Bassett: 53, 9th