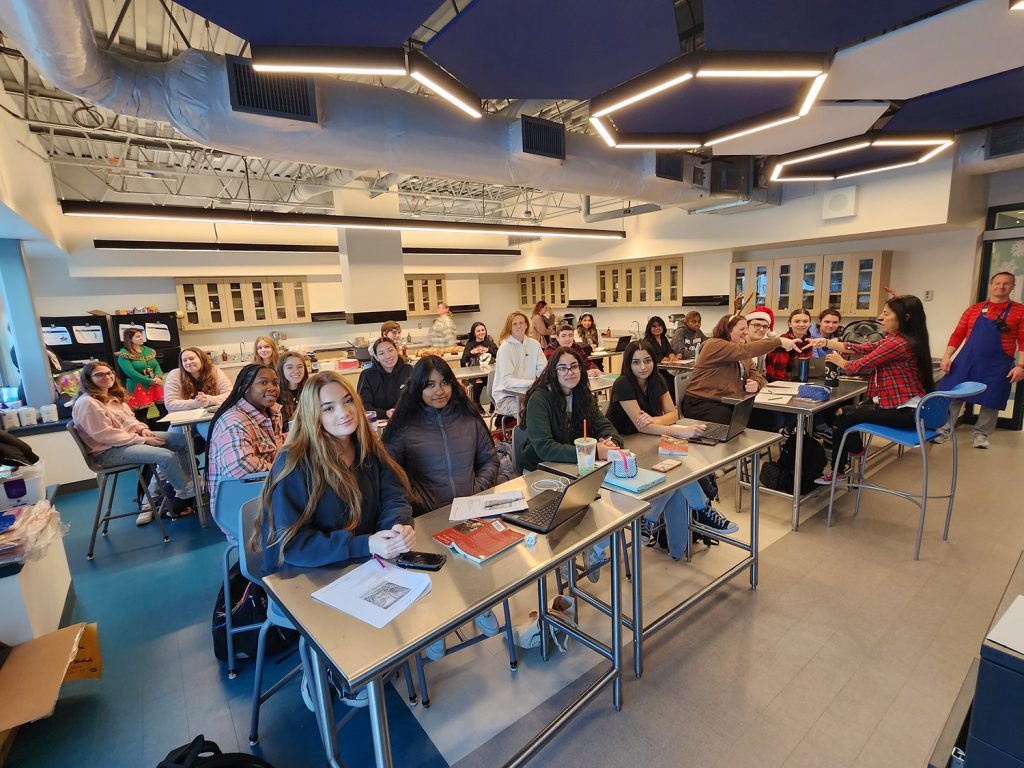 The Monticello High School Food Drive began on November 2, 2022 and concluded on November 21, 2022. The goal, in that short time, was for the high school, collectively as a strong community, to raise enough money to help 100 MCSD families enjoy a special Thanksgiving meal. Given the higher cost of everything, there was concern that the goal would not be reached, but thanks to amazing efforts of leadership, modeling, and inspiration by teachers, administrators, and students alike, the HS was able to reach their goal. Thanksgiving baskets were created, including turkeys, stuffing, pie, and more, for 100 local families. The high school coordinated with Julian Dawson from the United Way who acted as a liaison for families.
As is part of the tradition, the class with the highest donation total is treated to a delicious breakfast cooked by the HS administrative team. This year, Mr. Wilder, Mrs. Boardman, and Mrs. Estep cooked a wonderful breakfast which included scrambled eggs, bacon, sausage, bagels, and even homemade cinnamon buns. This year's winning class not only won themselves a delicious breakfast, but they also helped 23 of the 100 families enjoy a Thanksgiving meal by collecting $1,426.87. A big thank you to Mrs. Grote's US History class for demonstrating the positive outcomes of being community minded.
We are currently fundraising for our annual toy drive, where the HS again connects with a local community organization. As per tradition, elves from the HS will deliver presents to our local Head Start. If you would like to donate to support these efforts, please send a check made out to the "MHS Toy Drive" to Mrs. Collura at the HS.
Wishing all a happy and healthy holiday season.