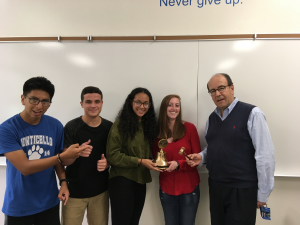 On Oct. 11, the Monticello High School Key Clubbers had their first meeting for the 2018-2019 school year. Key Club President Rachel Leventoff received a special gavel from Monticello Kiwanis Key Club Advisor, Marvin Rappaport. Mr. Rappaport was President of Monti High Key Club in 1964-1965 and was presented with this gavel upon completing his term in office.
The Key Club did not have a gavel for some time. When Mr. Rappaport learned that the club only had a bell, he decided to give the club his keepsake to help support the club in running their meetings. His experience as Key Club President has motivated him to now give back community hours to help students from his alma mater prepare for a successful future.
Key Club is an International Student- Led Organization sponsored by the Kiwanis Club of Monticello. Its mission is to give members opportunities to provide community service, build character and develop leadership. In addition to Kiwanis sponsorship, Steven Raabe is the Faculty Advisor for the Monticello High School Key Club.