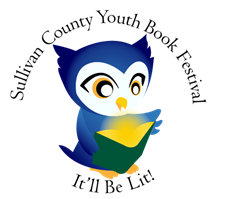 The inaugural Sullivan County Youth Book Festival will take place on Saturday, May 25, 2019 from 10 a.m.—4 p.m. We will welcome over 20 authors and illustrators of books for infants  through young adults. Visitors will have the opportunity to meet the many talented book creators, listen to readings in Vera's Story Garden and purchase books. There will be musical guests, crafts, face painting, character meet and greets, story walks, stilt performers, and more throughout the day. Author and illustrator, Lindsay Barrett George will present a workshop titled Once Upon a Doodle; parents and their children will work together and use their doodles to communicate thoughts and feelings.  All are welcome to join us for a day to celebrate literacy and books.
Grab some friends and stop by for family fun for all ages. More information is available on our website, scybookfest.org or by following @scybookfest on Facebook or Twitter. You may also call 845-794-4660 ext. 8 or email scybookfest@gmail.com for more information. This event will take place at the Ethelbert B. Crawford Public Library located at 479 Broadway in Monticello, NY.  Parking will be available at any of the municipal lots on Broadway.
Volunteers sought
Volunteers are needed to support this event on May 25. Shifts are available between 8 a.m. and 5 p.m. There will be two volunteer meetings on Wednesday, May 1 and Saturday, May 11. All volunteers must attend one of these meetings. Teen Volunteers may use this experience as community service hours for school classes or clubs. Breakfast and/or Lunch and T-Shirts will be provided for all volunteers.
For more information about volunteering, please contact: scybookfest@gmail.com