A message from the Ethelbert B. Crawford Library: 
Library Card Sign-Up Month reminds students, families that libraries are the key to academic success This September Ethelbert B. Crawford public library in Monticello is joining the American Library Association (ALA) and libraries nationwide for Library Card Sign-Up Month, a time to remind parents, caregivers and students that a library card is the first step towards academic achievement and lifelong learning.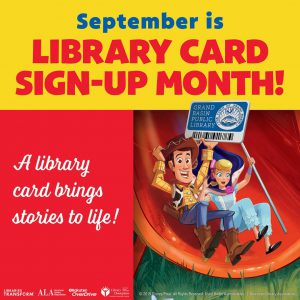 A library card opens a world of infinite possibilities through resources and services that give students the tools to succeed in school and beyond. From STEAM (science, technology, engineering, arts and mathematics) programs, family storytimes, to makerspaces and in-person or tech help, libraries transform lives through education.
Our local libraries offer free and fun educational resources and activities that bring families and communities together. Libraries also play an important role in the education and development of children. Studies show that children who are read to in the home and who use the library perform better in school and are more likely to continue to use the library as a source of lifetime learning. Check out our fall programs for children, teens, and adults at ebcpl.org.
This year, Disney and Pixar's "Toy Story 4" characters Woody, Buzz Lightyear, Bo Peep and friends are going on adventure as Honorary Chairs of Library Card Sign-Up Month. In their role, they will promote the value of a library card and bring attention to the many ways libraries transform lives and communities. During September, EBCPL will host activities, including Kids Who Code, National Comic Book Day: Super Hero Training Academy, Tinker Tots, our new Graphic Novel Book Club: Book Wizards, among dozens of other programs.
Since 1987, Library Card Sign-up Month has been held each September to mark the beginning of the school year. During the month, the ALA and libraries unite in a national effort to ensure every child signs up for their own library card. EBCPL is also offering free replacement cards for patrons who have lost their cards throughout the month of September. To get a new card or replace a lost card simply bring ID & proof of residence to the desk. For children under 18, a parent or guardian is required to bring these items. For more information about how to sign up for a library card, please visit EBCPL in person at 579 Broadway, Monticello, or online at ebcpl.org. Follow us on social media @ebcplibrary to see all of the fun things happening here. Call the library at 845-794-4660 with any questions.