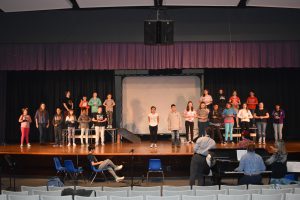 Join the students of Robert J. Kaiser Middle School's drama club for a production of How to Eat Like A Child — and Other Lessons in Not Being A Grown-up. 
There will be two shows on Nov. 15 and 16 at 7 p.m. at the Arnold Packer-Hughs Auditorium at Monticello High School. The snow date will be Nov. 17 at 2 p.m. 
The cost of tickets are $3 for students, $5 for adults. Seniors over 60 are free. Tickets will be available at the door, or you may contact Tricia Cahalan at 845-796-30578 to purchase in advance. 
Want to make it dinner and a show? On Friday, Nov. 15, the Robert J. Kaiser PTO will host a spaghetti dinner fundraiser from 5 – 7 p.m. Click here for more information about the dinner, or to purchase tickets for the dinner. 
About the play: 
Book by Delia Ephron, John Forster, and Judith Kahan, music & lyrics by John Forester, and based on the Book by Delia Ephron. This musical romp takes us through the joys and sorrows of being a child is hilarious including endearing moments of dealing with school, siblings, unfair parents and responsibilities. Come join our cast and crew and take a trip down memory lane and remember what it is like to be a child and all the fun that it can be.
This year's musical is brought to you by: Musical Producer and Director Timothy Buckley, Choral Director Amy Phillips, Accompanist John Bernstein, Costumer Kristine Landman, Set Design and Publicity Tricia Cahalan.