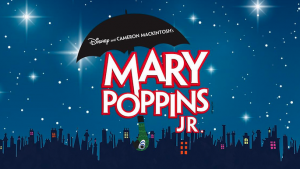 On Friday, Jan. 25 and Saturday, Jan. 26, RJK Middle School students will present Mary Poppins, Jr. at 7 p.m. in the Arnold Packer Hughs Auditorium at Monticello High School. Doors open at 6:30 p.m. and the show begins promptly at 7 p.m. 
If either show is cancelled, there will be a snow date held on Sunday, Jan. 27 at 2 p.m. 
Tickets are $3 for students, $5 for adults and free for seniors over the age of 60. Tickets can be purchased at the door or through any cast or crew member. If paying by check, please write "RJK Musical" in the memo. 
For more information, or to set aside tickets, please contact TCahalan@k12mcsd.net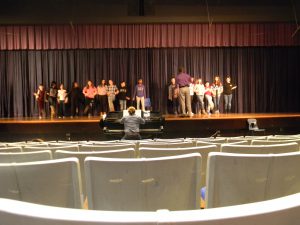 The Director and Producer: Timothy Buckley, Choral/Music Director: John Bernstein, Costumes: Kimberly Schneeberger, and Set/Prop Design & Publicity: Tricia Cahalan.
CAST: Julia Kurthy, Janah Quinones, Lennie Gleyzer, Michael Feltman, Robert Pape-Laucella, Scott Doty, Erin Spear, Isabella Velasquez, Kaitlyn Weiss, Alexandra Dietz, Morris Germann, Luke Robinholt, Chloe Brown, Julia Wysokinska, Harly Taylor, Anthony Belgiovene, Kaiyla Morrison, Lexis Kehoe, Kaitlyn Morse, Kalene Harris, Mason Dunn, Dominic Giorgianni, Isabella Mann, Chelsea Walz, Winter Warner.
CREW: Alyssa App, Mason Atlas, Sophie Atlas, Leanna Auletta, Lacy Babcock, Nathan Borko, Christopher Brush, Blayre Carnell, Hanna Cavello, Madison Clancy, David Cooper, William Cooper, Joryson Cordero-Vargas, Alexander Decker, Amalia Decker, RileyAnn Doss, Madison Dunn, Francis Giorgianni, Jessica Hughes, Alex Langowsky, Cassandra LaPolt, Anyanka Leon, Shealyn Leon, Owen Messenger, Preston Roosa, Daniel Seminario Eoin Smith, Magdalena Villanueva, Andrew Weiner, Ella Werbalowsky, Sarah Willett.
High School Assistants: Owen Bassett, Fiona Feltman, Evan Waterton.
The show is based on one of the most popular Disney movies of all time and the Broadway musical that played for over 2,500 performances and received multiple Olivier and Tony Awards nominations, Disney and Cameron Mackintosh's Mary Poppins is capturing hearts in a whole new way: as a practically perfect Broadway Junior musical!
The jack-of-all trades, Bert, introduces us to England in 1910 and the troubled Banks family. Young Jane and Michael have sent many a nanny packing before Mary Poppins arrives on their doorstep. Using a combination of magic and common sense, she must teach the family members how to value each other again. Mary Poppins takes the children on many magical and memorable adventures, but Jane and Michael aren't the only ones upon whom she has a profound effect. Even grown-ups can learn a lesson or two from the nanny who advises that "Anything can happen if you let it."