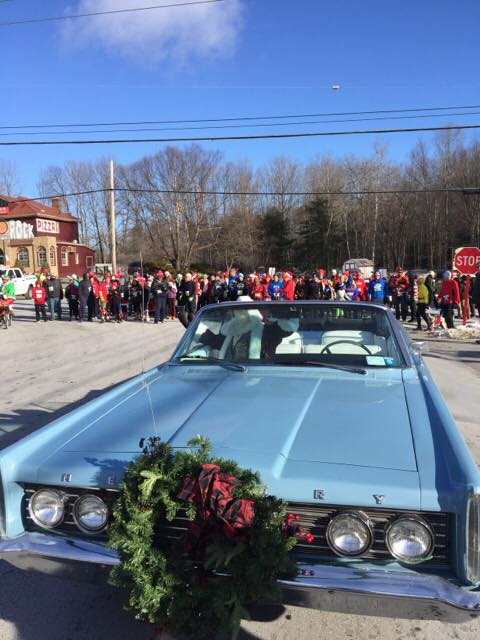 On Saturday, Dec. 14 at the Monticello Teachers' Association (MTA) will host its fifth-annual Tinsel Trot 5K Fun Run in Rock Hill and Reindeer Dash. The Reindeer Dash, a fun run for children aged 10 and under, will begin at 9:30 a.m., with the Tinsel Trot beginning at 10 a.m. 
This holiday-themed race, complete with festooned runners and walkers, hot cocoa and carolers, and taking place on the second Saturday in December, has raised close to twenty thousand dollars for the Sullivan County Homeless Federation and the same amount to provide college scholarship opportunities for the students here at Monticello. 
"This money makes a real difference in the lives of so many people in our community," MTA President John Maranzana said. 
The course begins on the corner of Rock Hill Dr. and Katrina Falls Road.  Runners will head down Katrina Falls Road and make a left turn on Lake Louise Marie Rd.  After climbing the hill, runners will turn right on North Emerald Drive.  Runners will turn around at a designated area on N. Emerald and will proceed back towards the starting area.  The finish line will be just before the corner of Lake Louise Marie Road and Katrina Falls Road.  
Prizes will be awarded to the top 3 overall male and female 5k competitors in the running and walking divisions.  Prizes also will be awarded to the top three 5k finishers (male and female) in the following age groups:
10-Under, 11-14, 15-19, 20-29, 30-39, 40-49, 50-59, 60-69, 70+   
Registration
Click here to register online. Participants who register before Nov. 15 are guaranteed to receive their shirt size. The cost to register is $30 before Dec. 7. After Dec. 7, the entry fee will increase to $35. The entry fee for children participating in the Reindeer Dash is a donation of one non-perishable food item. 
Participants may also download the registration form, and mail the completed form, with payment, to the address listed on the form.
Reindeer Dash registration form