This is a page for senior students to keep up with all of the news, changes and announcements pertaining to the class of 2020. Please check back frequently, as we will be updating this page with information as it becomes available. 
Class officers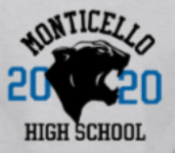 Senior Class Presidents:          Briana Ibanez & Reem Nada              
Senior Class Vice President:   Andrew Lounsbury 
Senior Class Treasurer:            Sarah Shamah 
Senior Class Secretary:            Kayla Lindstadt 
Senior Class Advisor:               Stephanie Byrne 
Follow the Class of 2020 on Instagram
 
Click here to follow the Class of 2020 on Instagram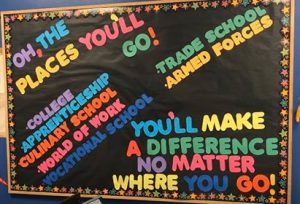 Socially-distant yearbook signing
Senior yearbooks are special keepsakes that students use to capture the essence of their high school relationships and memories.  Our current circumstance of being out of school, and our limited ability to coordinate gatherings, has left a void in the senior experience.  To help fill that void we recommend that you collect your desired written keepsakes from your friends, teachers, and other important adults in your life through email.  Send them an email letting them know that their school experience was made better by your relationship with them and ask if they would send you a message for you to include in your yearbook as a keepsake message.  You can then print them and include them in your yearbook to open time and again to reflect on and remember the special times you shared.  In the years to come, your keepsake messages will be most important for the memories and feelings they stir within you than where they were written and how they were received.  You are finishing an early chapter in a very long memoir of your life.  Make it wonderful!
MHS Senior Trip to Virginia Beach: May 15-17, 2020        Cancelled 
BOE rescinded their approval of the trip at the April 2, 2020 meeting

.

 

April 3, 2020, students were notified via Remind and Schoology to check their school email for the official announcement to students about the cancellation.

 

Student Adventure Travel, the tour company we booked with, was notified

 April 3, 2020

 upon the board decision. Since they have had 100% class trip cancellations, they are working d

iligently to get refunds out to everyone. The refund need

s

 to 

be processed

 

with 

all the companies involved in our itinerary

. We will receive our refund when the tour company received the money from 

everyone so it can be sent in one lump sum.

 

Refund can take up to EIGHT weeks to process as a result of this. 

This works out to be the end of May roughly when we will receive the funds.

 

For any specific questions about the refund and amount you can expect, please contact Class Advisor, Stephanie Byrne, at 

sbyrne@k12mcsd.net
MHS

 

Class of 2020 Time Capsule 
Submissions Due

: 

June 

3

, 2020

 

Please submit all artifacts 

to:

 

Stephanie

 Byrne 

at MHS

 

They can be emailed for print to:

   

sbyrne@k12mcsd.net

 

They can be left in the high school Main Office Attn: Byrne

 

Students, Faculty, Coaches, and our Community are all invited to take part as we commemorate history and 

to 

preserve the 

memories

 we made at Monticello High School. 

 

Students will vote on whether to open the capsule in 10 or 20 years.

D

ate of dedication 

and preserved location 

TBD and the opening day will be either 10 0r 20 years from then pending 

the outcome of the 

student 

vote

. The opening date will serve as a class

 reunion date.

 

 

 

The Contents

Each participant

's contribution must fit in a

 quart sized, open ended plastic bag that will be 

vac

u

um

 sealed for their contributions.

 One will be provided if needed.

 Their bags will be labeled. We may consider purchasing silica packets to put in the bags for additional preservation of the individual contents. 

 

Each participant should include a written piece of their choosing to be included. A poem, or a letter to those who will read it in the future about what life is like now and their hopes for the future.  This could even be a letter to their future self. Prompts can be provided and made available for guidance upon request. 

 

Additional items could include (and are not limited to):

Photos-black and white tend to be preserved better. Photos should be labeled and placed back to back so

 

they

 

do not stick to each other.

 

Newspaper clippings quickly deteriorate. A copy of a clipping will

 

last

 

much longer.

 

Any other items significant to the participant and our current time period including what the item is and why they chose it.

 

List of Web Addresses for memorable videos

Photos-black and white tend to be preserved better.

List of Web Addresses for memorable videos

 


Things not to include:

 


Food

 

Newspapers

    

 

Rubber or rubbery plastics

 

because t

hey 

release 

sulfur

 

upon

 deteriorat

ion

.

 

Wool or hair

 

because they also contain 

sulfur

 and

 may outgas and corrode any metal.

 
MHS 

Senior Prom

:   June 13, 2020    Cancelled
Upon speaking with The Sullivan to try to figure out a way forward, it is with a heavy heart that we must cancel this event. The social distancing requirements currently in place for gatherings would be nearly impossible to implement. 

The idea of a virtual prom was put up for a vote and seniors overwhelmingly voted the option down, so that will not be explored as an alternative. 
MHS Blue & White Ceremony

:

June 16, 2020
Please watch the virtual Blue and White ceremony below: 
MHS Panther Parade of Pride:

June 16, 2020      Cancelled
The concept for the Panther Parade of Pride was incorporated into the Blue & White Ceremony and the Senior Goodbye.  No other activities related to this will occur..

 
"Last Night" Chamber Music Concert: June 16, 2020
     Cancelled
Senior Goodbyes: June 17, 2020 
From 2 – 4 p.m. on June 17, seniors and their families are invited to drive through each school building, where staff will be lined up along the sidewalks to say "goodbye" Read more 
MHS Senior Honors Night: J

une 24, 2020           Cancelled
Scholarships and awards will be incorporated into the graduation video
MHS

 

Class of 2020 Commencement Ceremony:

June 28, 2020
The official 2020 graduation ceremony will premiere on the district's YouTube channel on June 28 at `1 p.m. at this link. Please note that if you click the link prior to 1 p.m. on June 28, you will see an error message.
While you're waiting, check out the trailer below: