This is a page for senior students to keep up with all of the news, changes and announcements pertaining to the class of 2020. Please check back frequently, as we will be updating this page with information as it becomes available. 
Class officers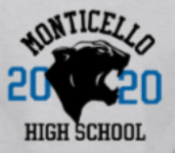 Senior Class Presidents:          Briana Ibanez & Reem Nada              
Senior Class Vice President:   Andrew Lounsbury 
Senior Class Treasurer:            Sarah Shamah 
Senior Class Secretary:            Kayla Lindstadt 
Senior Class Advisor:               Stephanie Byrne 
Follow the Class of 2020 on Instagram
 
Click here to follow the Class of 2020 on Instagram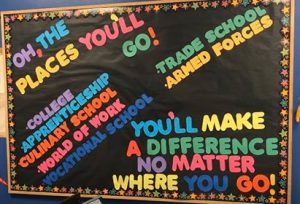 Graduation announcement
Watch the video below from Principal Wilder
Guide to Graduation 
The video below outlines what graduates and their guests can expect at their graduation ceremony. 
Once you have finished watching the video, please review the graduation details document for more information and expectations. 
Graduation Ceremony Summary 
Graduates and up to six guests will have the opportunity to participate in a modified graduation ceremony at Monticello High School. Each graduate can visit our graduation bookings page to book a time slot between 3 and 8 p.m. on one of the following dates: June 9, 10, 11 or 12. Please book your time slot as soon as possible – registration will close on June 4.  Note that when you open up the bookings page, you may need to click the arrow next to "May" to navigate to the "June" calendar and select your dates. You must use your full name as it appears on SchoolTool to book and each graduate may only book one time slot. 
The ceremony will incorporate many of the senior traditions that our students look forward to, including walking down the aisle to pomp and circumstance, a professional graduation photograph, cap toss and signing the senior mural – all while following safety measures to promote the safety, health and wellness of all participants. On June 28 at 1 p.m., the district will premiere a commemorative video of the ceremony on our YouTube channel. 
Save the dates 
Please mark your calendars now for these important dates. We will share more information on the senior webpage and on Schoology  as soon as it becomes available. 
May 28 – Release of informational video, and written plan  
June 1 and 2 – Distribution of cap & gown, cords, gift box and yard signs (4-7 p.m.) 
June 4 – Last day to book a graduation time slot 
June 9, 10, 11, 12 – Graduation ceremony by appointment (3-8 p.m.)  
June 28 – Graduation video premiere (1 p.m.) on the district's YouTube channel
MHS Senior Trip to Virginia Beach: May 15-17, 2020        Cancelled 
BOE rescinded their approval of the trip at the April 2, 2020 meeting

.

 

April 3, 2020, students were notified via Remind and Schoology to check their school email for the official announcement to students about the cancellation.

 

Student Adventure Travel, the tour company we booked with, was notified

 April 3, 2020

 upon the board decision. Since they have had 100% class trip cancellations, they are working d

iligently to get refunds out to everyone. The refund need

s

 to 

be processed

 

with 

all the companies involved in our itinerary

. We will receive our refund when the tour company received the money from 

everyone so it can be sent in one lump sum.

 

Refund can take up to EIGHT weeks to process as a result of this. 

This works out to be the end of May roughly when we will receive the funds.

 

For any specific questions about the refund and amount you can expect, please contact Class Advisor, Stephanie Byrne, at 

sbyrne@k12mcsd.net
MHS

 

Class of 2020 Time Capsule 
Submissions Due

: 

June 

3

, 2020

 

Please submit all artifacts 

to:

 

Stephanie

 Byrne 

at MHS

 

They can be emailed for print to:

   

sbyrne@k12mcsd.net

 

They can be left in the high school Main Office Attn: Byrne

 

Students, Faculty, Coaches, and our Community are all invited to take part as we commemorate history and 

to 

preserve the 

memories

 we made at Monticello High School. 

 

Students will vote on whether to open the capsule in 10 or 20 years.

D

ate of dedication 

and preserved location 

TBD and the opening day will be either 10 0r 20 years from then pending 

the outcome of the 

student 

vote

. The opening date will serve as a class

 reunion date.

 

 

 

The Contents

Each participant

's contribution must fit in a

 quart sized, open ended plastic bag that will be 

vac

u

um

 sealed for their contributions.

 One will be provided if needed.

 Their bags will be labeled. We may consider purchasing silica packets to put in the bags for additional preservation of the individual contents. 

 

Each participant should include a written piece of their choosing to be included. A poem, or a letter to those who will read it in the future about what life is like now and their hopes for the future.  This could even be a letter to their future self. Prompts can be provided and made available for guidance upon request. 

 

Additional items could include (and are not limited to):

Photos-black and white tend to be preserved better. Photos should be labeled and placed back to back so

 

they

 

do not stick to each other.

 

Newspaper clippings quickly deteriorate. A copy of a clipping will

 

last

 

much longer.

 

Any other items significant to the participant and our current time period including what the item is and why they chose it.

 

List of Web Addresses for memorable videos

Photos-black and white tend to be preserved better.

List of Web Addresses for memorable videos

 


Things not to include:

 


Food

 

Newspapers

    

 

Rubber or rubbery plastics

 

because t

hey 

release 

sulfur

 

upon

 deteriorat

ion

.

 

Wool or hair

 

because they also contain 

sulfur

 and

 may outgas and corrode any metal.

 
MHS 

Senior Prom

:   June 13, 2020    Cancelled
Upon speaking with The Sullivan to try to figure out a way forward, it is with a heavy heart that we must cancel this event. The social distancing requirements currently in place for gatherings would be nearly impossible to implement. 

The idea of a virtual prom was put up for a vote and seniors overwhelmingly voted the option down, so that will not be explored as an alternative. 
MHS Blue & White Ceremony

:

June 16, 2020
Every year the Blue & White Ceremony features a senior slide show with pictures of our seniors through the years and today. This event is usually preceded by our Panther Parade of Pride through all the district buildings from the elementary schools and ending at the high school. As we try to re-imagine this experience, we would love pictures of our seniors when they were in elementary, middle, and high school. Please send pictures to MHS2020@k12mcsd.net before May 29, 2020
MHS Panther Parade of Pride:

June 16, 2020
Whether Governor Cuomo continues with the closing of school through this date or not this event will not happen

 

out of an abundance of caution to safeguard the safety, health, and wellness of our school community.

 

We are exploring whether other options are available regarding this event.

 
"Last Night" Chamber Music Concert: June 16, 2020
We

 

will

 

recommend that

 

this event be cancelled

. 

 
MHS Senior Honors Night: J

une 24, 2020
We are exploring

 

options for this event

.

 
MHS Graduation

 

Rehearsal: J

une 25, 2020
Any rehearsal will be dependent upon what is decided on as the format for the commencement ceremony.

 

Students normally sign the senior mural at the luncheon following this event. We are exploring other options for how students may be able to view and sign the class mural.
MHS

 

Class of 2020 Commencement Ceremony:

June 28, 2020
To ensure the safety, health, and wellness of everyone during the COVID-19 pandemic it is most likely that a traditional graduation experience at the Sullivan County Community College Field House

,

 

where hundreds of people gather in

 

close

 

proximity

,

 

will not happen

.  

 

Ongoing p

lanning sessions are focusing on how to provide a memorable

 

commemorative

 

experience

 

for our graduates.  Current discussions include the possibility of individualized presentations of diplomas,

 

the creation of a graduation video using photographs and voice-overs, and

 

how students can participate in some of the traditional graduation experiences

 

like decorating their graduation cap

.