Seymour, Audrey and Audrey II take the stage at Monticello High School for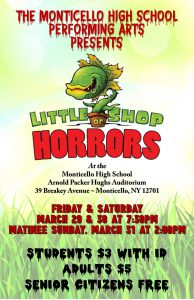 the presentation of Little Shop of Horrors, March 29, 30 and 31.
Meek floral assistant Seymour Krelborn has a crush on his co-worker, Audrey. He stumbles across a new breed of plant he names "Audrey II" in honor of her.  But this plant is nothing like Audrey. It's a foul-mouthed, R&B-singing carnivore that promises fame and fortune to the down-and-out Seymour, with one catch – he must keep feeding the plant blood. Over time, Seymour discovers Audrey II's origins and intent.
The Monticello production stars Edward Spear as Seymour, Briana Ibanez as Audrey, Annay Ames-Shaw as Audrey II, Erin Thompson as Mushnik, Andrew Lounsbury as the dentist and Amelia Gleyzer, Sofia Heimowitz and Kayla Lindstadt as the urchins.
Little Shop of Horrors was one of the longest-running Off-Broadway shows. It is funny and has incredible music including "Grow For Me," "Suddenly Seymour" and "The Meek Shall Inherit."
The show will take place in the Arnold Packer Hughs Auditorium at Monticello High School, 39 Breakey Ave. Tickets are $3 for students with identification, $5 for adults and free for senior citizens.
If you go
Monticello High School Presents Little Shop of Horrors
Friday, March 29 – 7:30 p.m.
Saturday, March 30 – 7:30 p.m.
Sunday, March 31 – 2 p.m.
Arnold Packer Hughs Auditorium
39 Breakey Ave., Monticello
Tickets at the door
$3 for students with ID
$5 for adults
Free for senior citizens