Written by AOF senior Aiden Johnson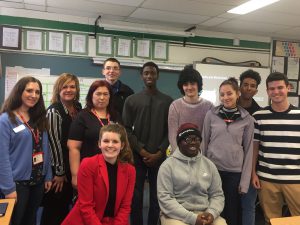 Melinda Stratton, Leanne Stuhlmiller, and Katarina Carleo from Jeff Bank visited Monticello High School to talk to students in the Academy of Finance Financial Services class. They informed the students about the services provided by their bank, along with the different types of accounts they offer. They offer student accounts that pay $1 for every A a student earns in high school and college. Once you turn 24, the account automatically turns into a checking account.
Jeff Bank is a community bank in Sullivan County that serves about 36% of the county. This bank has the largest footprint of all community banks. The students received a brochure with information about all the services provided by Jeff Bank and were allowed to ask any questions that they had.
In addition, a presentation was shown about cryptocurrency and blockchain. It was a wonderful presentation, describing what cryptocurrency is, what it does and how it ties into the banking world.  Ms. Stuhlmiller gave the students get a better understanding of these topics, which are part of the curriculum of the Financial Services class.
Overall the students had an excellent time and it was a wonderful learning experience for everyone. The class extends their thanks to Ms. Stratton, Ms. Stuhlmiller and Ms. Carleo for taking time out of their day to come in and talk to us.