A message from Dana Taylor, Executive Director of Special Summer and After School Programs
para una traducción en español haga clic aquí
Dear Current and Future Empire Families,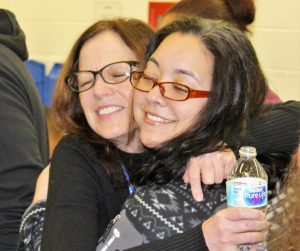 The unexpected long-term closure has been difficult on the entire MCSD community. COVID 19 impacts will remain in our hearts and minds long after vaccines have been approved, abundant supplies of PPE are available and our school community is reunited. NY Pause has created a world where worry, fear and isolation are the new norm. Despite the resilience of children and the innovative ways we are maintaining connections, our students will return with greater social emotional and academic needs.
Understanding and compassion are at the forefront during Post Pandemic Empire Program development. Increased social emotional and academic interventions in a supportive caring environment will assist in meeting the needs of Empire students. Relationships, love and kindness will make us stronger than ever when we are together again.
Empire registration is being completed electronically. This link will take you directly to the registration site. The site is not able to process an incomplete application so you should have your employer and work schedule available prior. Please complete the on-line registration component prior to the end of the school year. In order for your application to be considered, this CEP form must be completed by the start of the school year. You can scan the completed form to dtaylor@k12mcsd.net or mail to Central Office at 60 Jefferson St. Suite 3 Monticello, NY.
We may not all be in the same boat, but we are all in the same storm.
With gratitude and hope,
Dana Taylor
Executive Director of Special Summer and After School Programs
En español:
Estimadas familias actuales y futuras del Programa Empire:
El cierre inesperado a largo plazo ha sido difícil para toda la comunidad de MCSD. Los impactos de COVID 19 permanecerán en nuestros corazones y mentes mucho después de que las vacunas hayan sido aprobadas, abundantes suministros de PPE están disponibles y nuestra comunidad escolar se reúne. NY Pause ha creado un mundo donde la preocupación, el miedo y el aislamiento son la nueva norma. A pesar de la capacidad de recuperación de los niños y las formas innovadoras en que mantenemos conexiones, nuestros estudiantes regresarán con mayores necesidades sociales, emocionales y académicas.
La comprensión y la compasión están a la vanguardia durante el desarrollo del Programa de Empire Luego de la Pandemia. El aumento de las intervenciones sociales, emocionales y académicas en un entorno solidario de apoyo ayudará a satisfacer las necesidades de los estudiantes de Empire. Las relaciones, el amor y la amabilidad nos harán más fuertes que nunca cuando volvamos a estar juntos.
La registración para el Programa Empire se está completando electrónicamente. El enlace lo llevará directamente al sitio de registro. El sitio no puede procesar una solicitud incompleta, por lo que debe tener su empleador y su horario de trabajo disponibles antes. Complete el componente de registro en línea antes del final del año escolar. Para que su solicitud sea considerada, el formulario CEP adjunto debe completarse antes del comienzo del año escolar. Puede escanear el formulario completo a dtaylor@k12mcsd.net o enviarlo por correo a la Oficina Central en 60 Jefferson St. Suite 3 Monticello, NY.
Puede que no todos estemos en el mismo bote, pero todos estamos en la misma tormenta.
Con gratitud y esperanza,
Dana Taylor
Directora Ejecutiva de Programas Especiales de Verano y Después de la Escuela