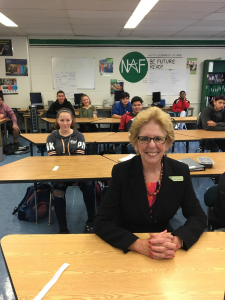 Article courtesy of AOF student Drew Taylor 
On Sept. 28, 2018, Evadne Giannini, owner of Hospitality Green LLC as well as the Academy of Finance Advisory Board Vice-President visited our AOF classes to discuss the importance of professional dress and give advice on how to properly work through an interview process.
Ms. Giannini began her presentation explaining how professional dress has been a significant factor to her success throughout her career. Whether it was what she wore to interviews as an upcoming actress or when she styled clothing for well-known names such as Diane Keaton, Carol Channing, Bette Midler and Michael Jackson, having an understanding for proper attire helped expose Ms. Giannini to many opportunities.
Ms. Giannini asked the students how long we thought it took someone to obtain a first impression. We were shocked to learn it takes only seven seconds and this surprising statistic amplified how vital not only acting and working for success is, but how crucial looking successful is when meeting with a future employer for the first time. Ms. Giannini opened our eyes to see how we present ourselves on the outside is a fundamental part to reaching our career goals.
We were given key tips on how our attire in the workplace should look, such as keeping the outfits simple, conservative and overall professional. Ms. Giannini taught the classes how to gain access to work appropriate clothing at exceptionally affordable costs. In addition, she covered other aspects of applying for a job such as what research and actions can be done before an interview, how to act and what to say during an interview as well as what to do after the interview to ensure you have the best possible chance of being chosen for the job.
We greatly appreciated Ms. Giannini taking the time to speak to our Academy of Finance classes and on behalf of all the students, thank you for informing us about appropriate attire and emphasizing the critical role it will play throughout our professional paths.