What happens when you use the outdoors as a classroom? Navigating a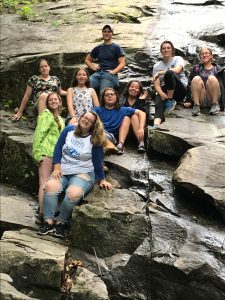 mountain climb becomes a study in developing topographical map skills. Jumping off a dock into a lake is also an opportunity to use a scientific instrument called a Secci disk to measure the lake's depths. A nature walk is a chance to identify and compare species and soil types. Learning becomes infinitely more engaging.
Nine Monticello High School students participated in the 2018 Summer Science Academy Environmental Science Immersion Studies program. Now in its second year, the program invites interested upperclassman to a six-day intensive field study in the Adirondacks. Using SUNY Cortland's Outdoor Education Center at Antlers Lodge in Raquette Lake, New York as a base, participants take off on different expeditions each day for hands-on lessons on Environmental Studies.
"It provides opportunities for students to discover the beauty and delicate balance that exists within the Adirondack ecosystem and develop environmental awareness that could lead to career and life choices that support Environmental Science," MHS Science Teacher and K-12 STEAM Coordinator Jeanine Nielson, who accompanied the students on the trip, said.
Students kicked off the week with a ropes course challenge and a canoe basics course, enabling the group to develop camaraderie, teamwork skills and trust before they embarked upon a week of activities in the wilderness. Rain or shine, they drew upon skill sets from different areas of STREAM (Science, Technology, Research, Engineering, Art and Mathematics), and from each other to collect data samples, explore life below the surface of the lake and climb 1,600 feet to the top of Blue Mountain for a discussion on the formation of the Adirondacks. They group studied the heartbeat of a Daphnia, a small platonic crustacean, to understand the impact of various stimulants and depressants on the human body.
"It was one full week of complete and utter joy and exploration and adventure," Senior Michael Abramson said. "We have sailed across lakes, gone on four-mile long hikes – we've climbed to the top of the world to see what is before us and it was amazing."
Although the summer is over, preparation for this event is a year-long occurrence. Students are invited to participate in the fall prior to the trip and spend the year preparing through courses and fundraising to finance the trip. Students who are interested in participating in the 2018-19 program should keep an eye and ear out for flyers in the hallway and morning announcements. They may also stop by room 112 and see Ms. Nielsen for more information. Community members who are interested in donating to help offset the cost of this experience for next year's group may contact Ms. Neilson at (845) 794-8840 ext 10861
"It's not every day that you are offered the opportunity to go into the Adirondacks and explore with your friends," Senior Brianna Howard said. "This trip helped connect me with my friends more and helped solidify team collaboration. It was indescribable and I hope people give it a chance."
Watch a student-created video of this experience.