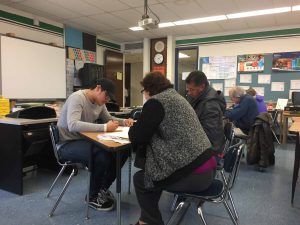 The Academy of Finance seniors at Monticello High School are preparing free, basic level tax returns for residents of the community.
To participate, income may not exceed $54,000. If you meet this requirement, the free service is available on select days between Feb. 8 and April 13, 2018.
All students are IRS-certified volunteers through the Volunteer Income Tax Assistance (VITA) program. This program allows these students to gain useful, real-life experience while giving back to their community.
Susan Bahrenburg, CPA, and Eric Shewmaker supervise and review all tax returns for accuracy prior to e-filing a client's return. Bahrenburg has more than 25 years' experience as a certified public accountant and Shewmaker has more than 15 years' experience as a tax preparer.
The Academy of Finance has provided this service for the past 10 years and looks forward to another successful tax season.
For more information or to set up an appointment, call Bahrenburg at 845-794-8840 x10849